Sounds on Oberlin Concert – Bending the Boundaries of Bluegrass
March 3 3:00 pm | Main Hall
Join Us
2023-24 Concert Series
Come to one, come to all – they're free!
Please consider making a gift to support Sounds on Oberlin. Any amount is most welcome and appreciated. Your contribution is a meaningful building block to future Sounds on Oberlin concerts.
Bending the Boundaries of Bluegrass
March 3, 2024
3:00 p.m. | WMPC Main Hall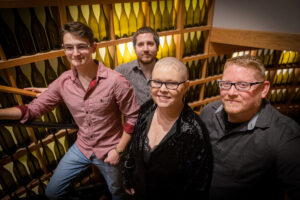 Get ready for an afternoon of music from billboard-charting bluegrass band Nu-Blu! With a sound that acknowledges the traditional institutions that have shaped it, Nu-Blu brings a fresh sparkle to contemporary acoustic music that lands them squarely in the forefront of bands blazing the trail in bluegrass, gospel, and Americana entertainment. Nu-Blu's style delivers a set of songs that range from the melancholy to the exuberant, and at every step they prove they've got a knack for finding their way into the deeper parts of you.
About Nu-Blu: Hailing from Siler City, Nu-Blu is one of the top Acoustic acts in the music industry, bringing its lively and entertaining version of Americana-bluegrass music to audiences across the nation year-round. Nu-Blu's heart and soul is husband-and-wife duo Daniel and Carolyn Routh. Carolyn's caramel-coated soprano is one of the band's defining traits, at times a tender lullaby, at times a freight train headed straight for you, but always unwinding a surprising tale. Daniel is the group's backbone, a multi-instrumentalist and backing vocalist who also handles band management. Austin Hefflefinger on banjo, and Justin Harrison on mandolin round out the quartet's warm, layered, Appalachian sound. Together they deliver upbeat, blazing-fingers pick work just as well as gentle, heartwarming ballads, and they do it all with a natural togetherness that can't be faked, forged over hundreds of shows on the road.  Learn more about Nu-Blu here.